---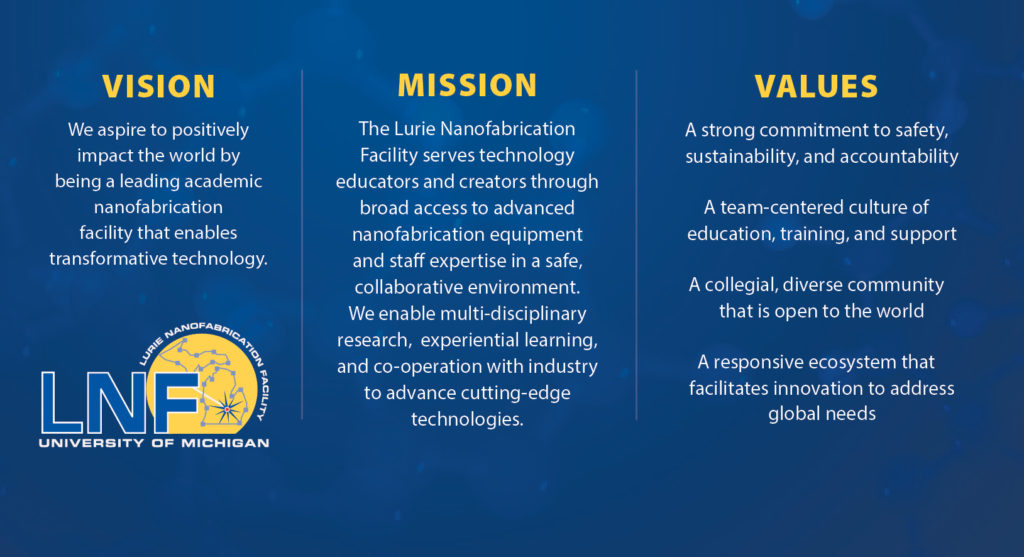 Vision
We aspire to positively impact the world by being a leading academic nanofabrication facility that enables transformative technology.
---
Mission
The Lurie Nanofabrication Facility serves technology educators and creators through broad access to advanced nanofabrication equipment and staff expertise in a safe, collaborative environment. We enable multi-disciplinary research, experiential learning, and co-operation with industry to advance cutting-edge technologies.
---
Values
A strong commitment to safety, sustainability, and accountability
A team-centered culture of education, training, and support
A collegial, diverse community that is open to the world
A responsive ecosystem that facilitates innovation to address global needs
---
Using the LNF
The LNF is available, on a fee basis, for use by research groups from government, industry and universities. Equipment and processes are available for research on silicon integrated circuits, MEMS, III-V compound devices, organic devices and nanoimprint technology. We also encourage researchers from non-traditional disciplines to make use of our processes, such as metal and dielectric coatings, vacuum processes, fabrication of micro and nano components and metrology tools.